Eddie Murphy
Eddie Murphy
is by far one of the more talented comedians to ever get up on stage. He was born as Edward Regan Murphy on April 3rd, 1961 in Brooklyn, New York. Eddie joined
Saturday Night Live
as a full time member in 1980 as a young 19 year old comedian. He went on to have a very memorable four year stint at Saturday Night Live. Not long after SNL were a string of hits including
Delirious
,
48 Hours
,
Raw
and
Trading Places
. After a couple of slow years, Eddie Murphy's career was somewhat rejuvenated with the
Beverly Hills Cop
series. But the late eighties and early nineties were tough times for Eddie Murphy at the box office; until the
Nutty Professor
was released in 1996. Eddie also lent his voice in the movie Mulan,
Shrek
and Pluto Nash. Overall, Eddie Murphy has had a very successful movie and comedy career that has thrilled many fans.
I hope you enjoy browsing these pages for some of Eddie Murphy's best audio clips, pictures, videos and links to tapes/DVDs of his works.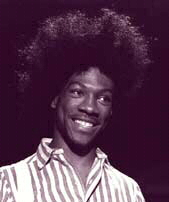 Audio Clips - .WAV/AU

Eddie's famous 'Buckwheat' character from SNL (.Wav)

Eddie's 'Mr. Robinson' character from SNL (.Wav)

Eddie Murphy as 'Velvet Jones', that slick ass pimp from Saturday Night Live (.Au)
"I wanna be a ho ..."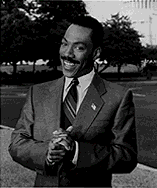 'Reggie Hammond' from 48 Hours (.Wav)
"Lack of pussy make you brave man"

'Reggie Hammond' from 48 Hours (.Wav)
"You know who I am, I am your worst ...."

'Reggie Hammond' from 48 Hours (.Wav)
"I've been in prison for three years, my ...."


'Reggie Hammond' from 48 Hours (.Wav)
"I hate rednecks..."

Eddie Murphy as 'Axel Foley' from Beverly Hills Cop (.Wav)
"What the f@ck is this all about?"

Eddie as 'Axel Foley' from Beverly Hills Cop (.Wav)
"You know you have a very big mouth sir."


The now classic Eddie Murphy laugh from Beverly Hills Cop (.Wav)

Eddie from his famous comedy, Delerious (.Wav)
"....you know Norton, I have been watching you and..."

Eddie talking about Mr. T (of
A-Team
fame) in Delirious (.Wav)

Eddie Murphy talking about Stevie Wonder in Delirious (.Wav)
Eddie Murphy Auctions