OutKast
"Operatin under the crooked American system too long. OutKast, pronounced "out cast". Adjective meaning homeless, or unaccepted in society. But let's look deeper than that. Are you an OutKast? If you understand and feel the basic principles and fundamental truths contained within this muzik, you probably are....An OutKast is someone who is not considered to be part of the normal world. He is looked at differently, he is not accepted because of his clothes, his hair, his occupation, his beliefs or his skin color. Now look at yourself, are you an OutKast? I know I am..."
OutKast, "True Dat" - Southernplayalisticadillacmuzik

"Nineteen ninety fo
, the scene was so thick..." 1994 saw Laface Records from the Motown of the South (Atlanta) give us OutKast's first album - Southernplayeristicadilac-muzik. Dre (Andre Benjamin) and Big Boi (Antwan Patton) did what few hip hop artists have ever done, and this is to take their debut album Platinum. Some of the better tracks from this album were the title track, "
Player's Ball
", "
Git Up, Git Out
", "
Ain't No Thang
" and "
Hootie Hoo
".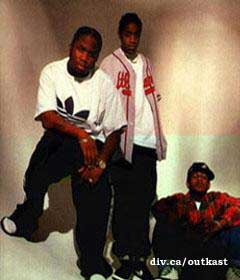 Outkast's first release came at a time when
gangsta rap
was making the dinner tables and evening news in America. But the duo from Atlanta weren't playing that game. They focused on what they did best; taking their lyrical skills and combining them with what would go on to become their trademark dope beats. They defined themselves and their truly unique brand of music in typical playa style,
"...a playa ain't a gangsta but a playa can handle his shit bitch..."
. Its not what you say (to all the wannabes of the time), its how you handle yourself. What they started was more than just OutKast, they put the Dirty South on the map. Artists/groups like Goodie Mob quickly followed their lead.

"
Me and you
, your momma and your cousin too, rollin down the strip on vogues, comin up slammin Cadillac doors ....". For their second album, OutKast went for a deeper 'mothership connection'. It was almost as if George Clinton should have been included in the credits. At times Dre and Big Boi refer to themselves as brothers from another planet, but most of the songs talk about what went down in the South; about tha pimps, playas, and of course their Cadillacs.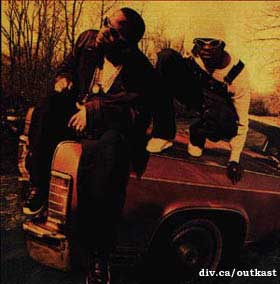 The first single off the album was "
Elevators
", with a laid back beat and hypnotic lyrics. The title track and "
Two Dope Boyz (In a Cadillac)
" round off the best tracks off of this album. Atliens was one of the best album put out in 1996. At a time when the hip hop world was just focused on the East coast-West coast conflict and lots of new artists are blowing up all over tha place, Outkast was kickin' it. Their success the first album certainly did not go to their heads as they come back some some more of the good stuff...it was all goin' down in the dirty south. ATLiens was released on August 27, 1996 and went 2x Platinum. Dre and Big Boi were slowly but surely emerging from the shadows of Atlanta, on their way to create a bigger fan base around the world.

The third album
from this Atlanta duo continued to create a lot of hype. But then what else would you expect; OutKast had been dropping laid back rhymes and funky ass beats now for over five years. The album name 'Aquemini' came from the astrological signs of Dre & Big Boi, Aquarius & Gemini respectively and it illustrated the diverse personalities of the two rappers.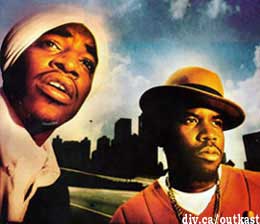 The artistic touch of Andre and the rawness of Big Boi combined for a very unique creation.
The track "
Skew it On the Bar-B
" with Wu-Tang Clan member Raekwon featured the legendary delivery of the Wu warrior and an appearence by George Clinton on the synthesizer. The star track of this album was by far "
Rosa Parks
". Apart from being a phat club track it packed a deep message towards the Civil Rights Movement. It ended up becoming the hip hop anthem for 1999.

In their fourth album
Stankonia
, Dre and Big Boi take you through an intricite musical journey as they explore their vast musical talents. The album also featured a wide variety of musical genres including rock, p-funk, samba and gospel. Hits like "
Ms Jackson
", "
B.O.B. (Bombs Over Baghdad)
" and "
So Fresh, So Clean
" continued to build up OutKast. This is clearly seen by the fact that this album went 4x Platinum and brought them huge success.

OutKast's most recent album was Speakerboxxx - The Love Below
was released in 2003. Once again, the boyz from the Dirty South did not disappoint. The two most masterful tracks have to be "
The Way You Move
" and pop-anthem "
Hey Ya
". Their mainstream success continued as this double album went 10x Platinum (Diamond) and OutKast won three Grammy Awards (Album of the Year, Best Urban/Alternative Performance, Best Rap Album).
Apart from being involved in their many music projects, soundtracks, with the Dungeon family, and other more - OutKast also have their own clothing line. And as expected the 'fresh and clean' looks have been a hit with the urban and hip hop crowd as Outkast's clothing line takes off. The Outkast clothing line is designed by Dre and Big Boi and is quite affordable.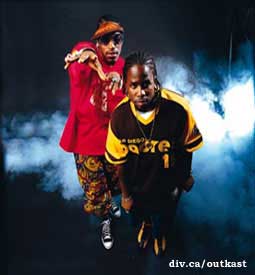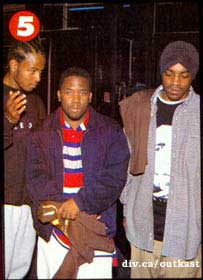 OutKast Auctions