Eddie Murphy's Standup Comedy
Richard Pryor was Eddie's comedic inspiration as he honed his standup skills in various comedy clubs. In my opinion, Eddie Murphy ranks up there as one of the best stand up comedians of our time.
Delirious and Raw
Delirious and Raw were by far Eddie Murphy's two most plorific comedic creations.
Delirious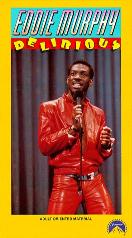 Bluntly put, this is one of the funniest comedy routines ever - this is the real Eddie Murphy. The routine is extremely dirty, explicit and offensive on one hand (he uses the word "f@ck" 230 times) but is witty and commanding on the other. Eddie manages to go through a whole gambit of issues and people, surely pissing off many but also impressing the audience with his numerous talents. Who else could do Elvis, Stevie Wonder, Michael Jackson and James Brown impressions on one hand - and then come back with some hard hitting Mr. T? And then there are all the personal anecdotes that the audience is walked through. Whether it be the 4th of July barbecues, his father, aunt Bunny or the Ice Cream Man - this comedy performance is well worth the price. The routine was filmed at Constitution Hall in Washington D.C. and directed by Robert Townsend.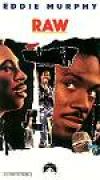 RAW
The movie Raw was filmed in New York City's Felt Forum and is often acknowledged as the "rawer" of Eddie Murphy's major comedy works. It is abrasive and politically incorrect as Delirious and was released in 1987. The movie/video never really got as much hype as Delirious, but it definitely holds its own against any comedy routines out there. Included is a classic Eddie Murphy skit portraying himself, Richard Pryor and Bill Cosby on the very issue of his abrasiveness. The show featured celebrities like Tatyana Ali and Samuel L. Jackson. The standup routine was written by Eddie Murphy and Keenen Ivory Wayans and the show was directed by Robert Townsend.
Albums
Eddie Murphy has also recorded a few comedy albums.

Eddie Murphy - Comedian
In 1982, Eddie Murphy released a self titled comedy album that hit the charts with a flurry of controversy. His politically incorrect views with respect to homosexuality, Asians and its misogynistic overtones led to boycotts by several special interst groups. Nonetheless, it was the beginning of Eddie's stand-up comedy career that would see him win a Grammy, do a country-wide comedy tour, record HBO specials and sell numerous videos.
Eddie's two other albums are
Eddie Murphy (LIVE)
and his
Greatest Comedy Hits
.
Eddie Murphy Auctions